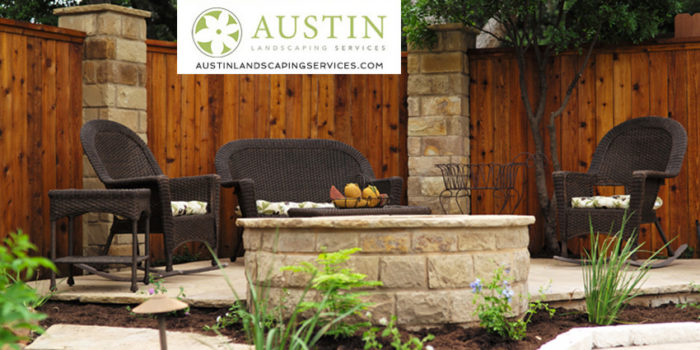 Another Beautiful Landscape!
Hi, everyone! I hope everyone is enjoying the summer! It's gotten hot!
Today I'm writing about a really fun project. About a month ago we finished John and Debi's new LandEscape. They are all about enjoying their home and relaxing in their own backyard. So, for their project we added three distinctly different areas and tied everything together with curved flowing garden borders to create a consistent, wholesome 'zen' feel. They already had a pool but wanted to make the outdoor space more enjoyable and fun for pool parties, BBQ's, dinners, and so on. So our first area included a luxurious outdoor kitchen, consisting of a grill, stand for a big green egg (or in their case a "big red egg"!), a sink, cooler, wine refrigerator, keg-o-rator, cabinets, drawers and more! Wow!
Functional and Stunning Outdoor Kitchen.
We built everything you see out of Texas sandstone and built a back wall that's perfect to hang lights, a TV, and some nice decorations on! Looking the other direction, we have a big sandstone island entirely covered by a beautiful cedar pergola. We chose cedar for a natural look and stained it with our favorite stain to give it a rich, bold Texas feel. (Doesn't Marysol look great modeling it!?)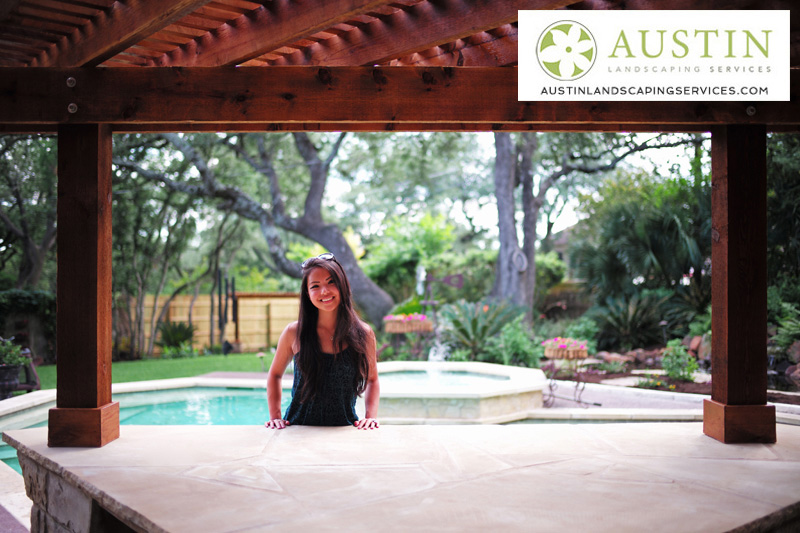 Beautiful stained cedar pergola, decorative wooden shoes, and sandstone countertop.
They'll be able to add some comfy bar stools so their friends and family can sit, eat, and be entertained all day (and night!) long! The pergola is extremely sturdy and beautiful, and has decorative wooden shoes, something we do by default! We designed this project very carefully with the posts for the pergola on the bar top, in order to keep the most functional space possible beneath their beautiful pergola.
Here are some close ups of the carpentry work on the pergola. Stunning, right?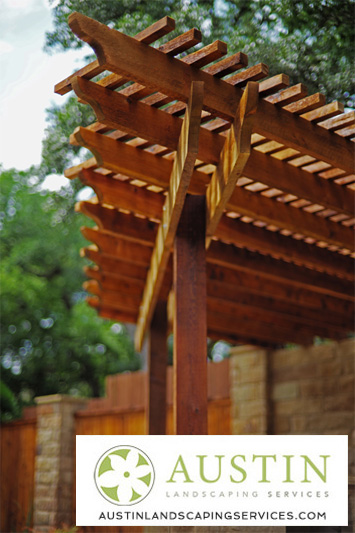 And, you can see it does add quite a bit of shade, as any well-built pergola should!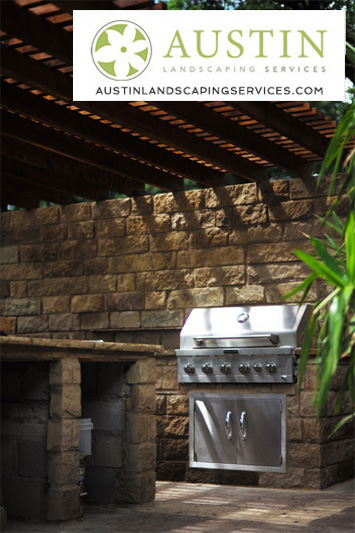 Here is what the outdoor kitchen/sitting area looks like from their back door: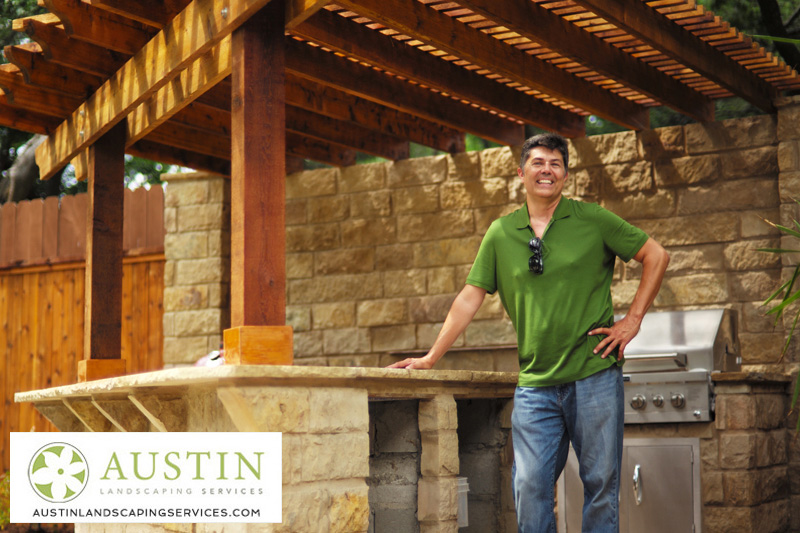 This next picture shows me "grilling". Ok, maybe not, but I wish I was! Which leads to the next part of our project!: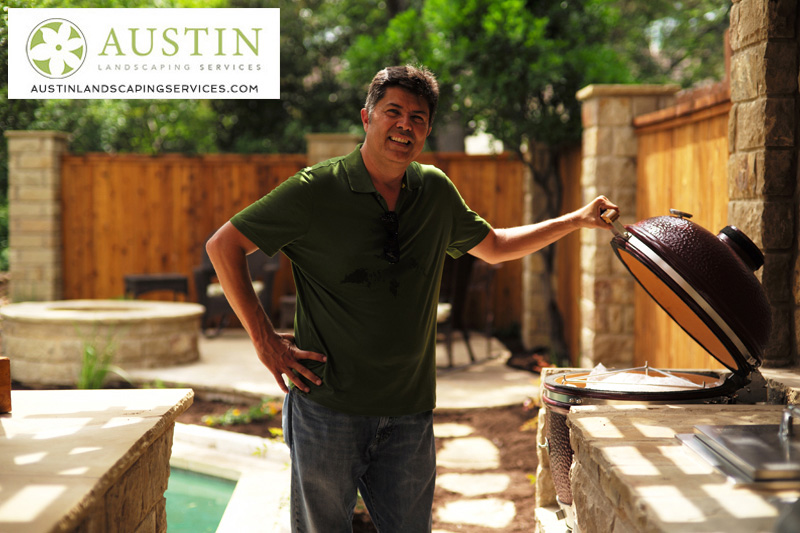 See those stepping stones and fire pit in the background?
We created a mulch garden between the two new entertaining spaces with stepping stones to easily get from one space to the other. The stepping stones are fun and natural-looking, and lead to a lovely flagstone patio with curved lines and an elegant stone fire pit!
See the cedar fence and sandstone columns in the background? We built this all alongside the right side of their yard in order to keep a consistent 'flow', and add privacy and a cozy atmosphere.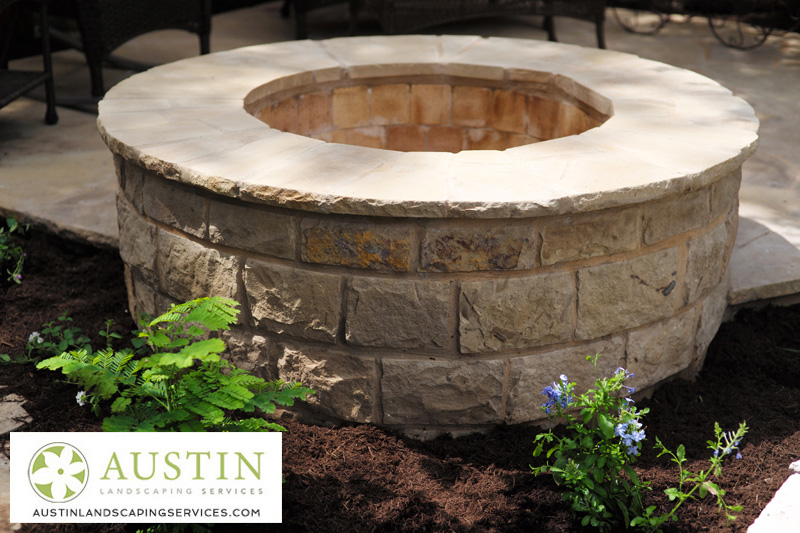 Here is what John and Debi's cozy sitting area looks like from out in their yard: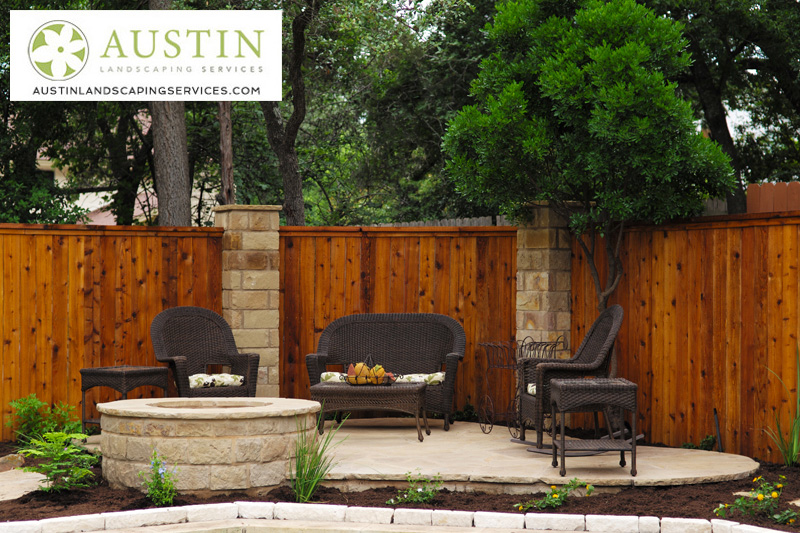 And to make it even better this private sitting area is next to a beautiful pond and waterfall! The plantings we added will grow very full and fill up this lush space to become a total secret Texas oasis, overflowing with Texas native color!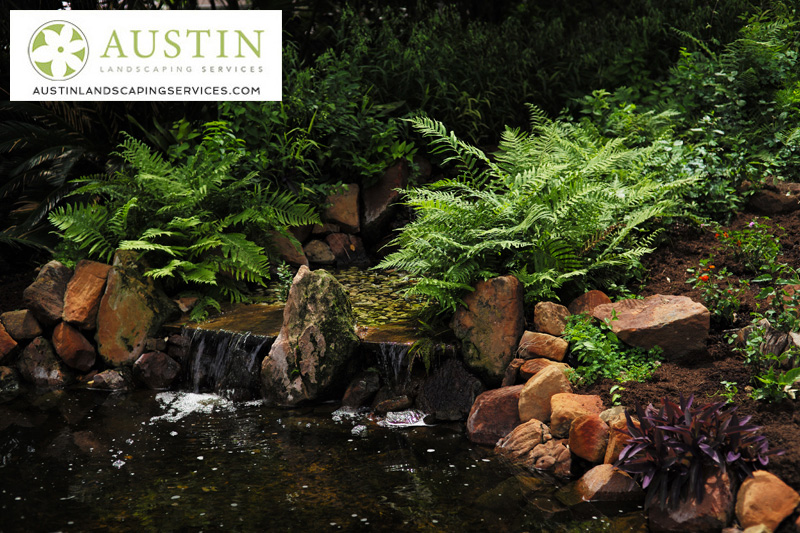 This project turned out exactly as we envisioned. Call us with any questions. We can't wait to get started on your project soon!
Call us for a FREE ESTIMATE today!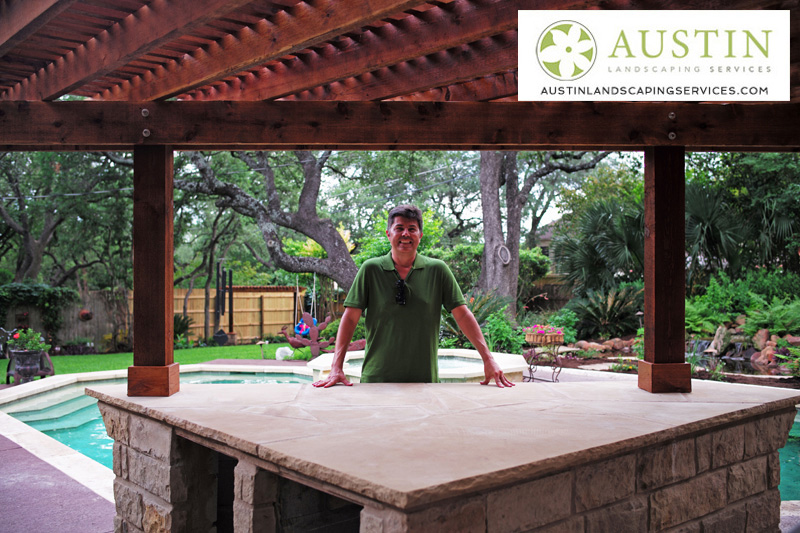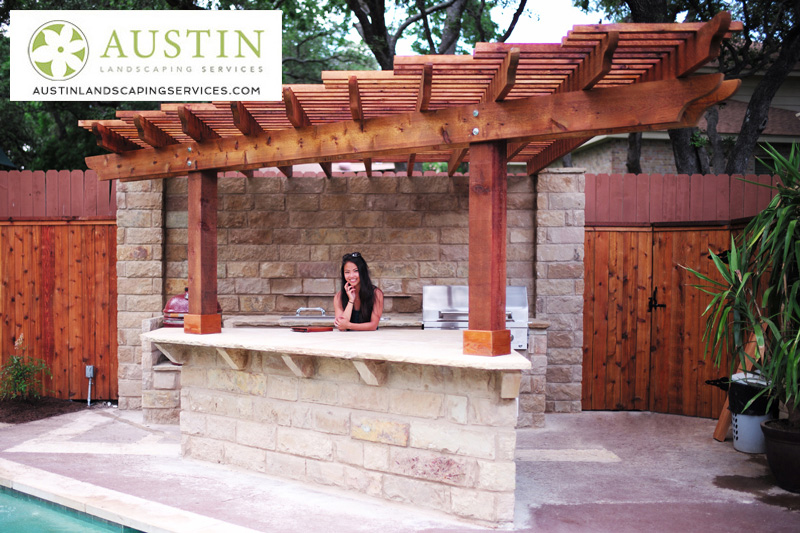 Have a wonderful day!