Calling all Doctor Who Fans and Xeriscape Lovers alike!
Hi, everyone!
Spring is right around the corner! These past few cold days probably won't be missed by many. For today's blog post I wanted to show you all a great project we did in the downtown Austin area.
Karl and Lisa are true Austinites who love displaying their unique character and wanted to portray it in their landscape. So what did we build in their backyard for them? A Tardis Police Box. If you are not familiar with the show, it is one to watch sometime for sure! In the show, the characters can time travel when entering this old English-style police public call box. We built on site a to-scale replica of the Police Public Call Box from Doctor Who- based on the London Police box! Karl and Lisa had a small toy version of this box when we first met to discuss their landscape in their kitchen.
We started talking about this interesting piece and they joked about the idea of having one in their backyard as a place to store tools and things. Talk about the coolest shed idea ever! When we kept talking and found this wasn't something they were just joking about, we were ecstatic to tell them we could do it. We found blueprints to build it completely from scratch. Our carpentry work is extremely detailed and precisely executed down to every last trim of wood.
Here's Karl and Lisa with their treasured police box!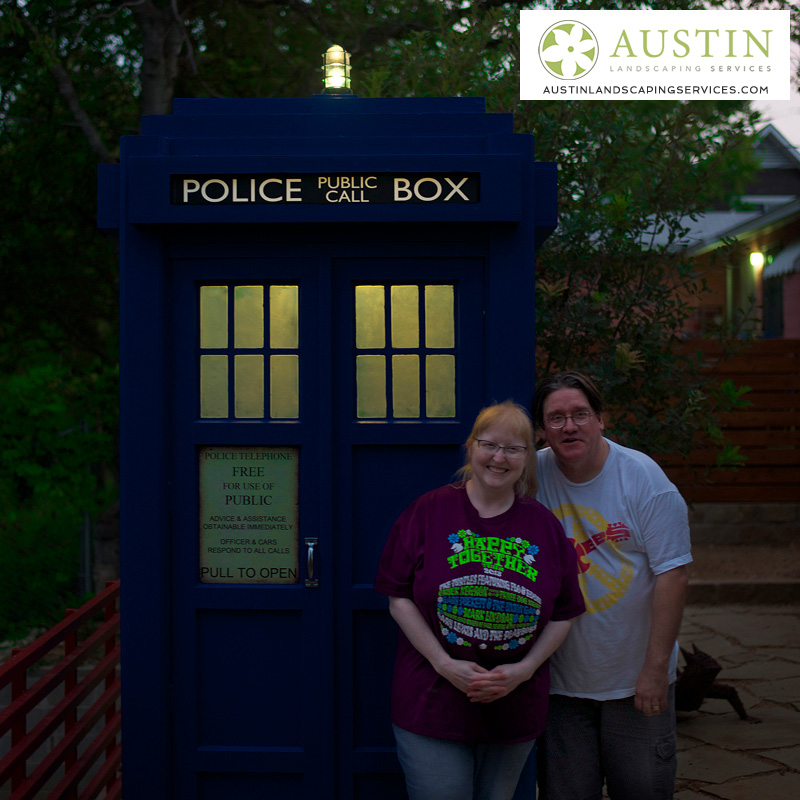 We wanted this to look as much like the real deal as possible. We personally designed the sign on the front door and the sign that goes on the top of each side through illustrator and made vector files for the exact scale to ensure authenticity. The light at the top is a real police light that we auctioned! We are proud to say Karl and Lisa truly have a one-of-a-kind piece in their backyard! The windows were made to look "old" but also provide that really cool effect when the light on the inside shines, as pictured!
Here are a couple of photos of the police box from different angles.
You can see that the area around the box is crushed granite with sandstone flagstone pieces laid into the granite. This upper level of their backyard (they have 3 levels!) now has this nice big entertaining space we implemented for them, where they can set out nice furniture and enjoy their backyard, right next to their police box!
Here is Dennis with the police box, and you can see the crushed granite with sandstone pieces very well here. You can also see some work we did here with paint, stain, and stonework. The cedar fence in the background, sandstone garden border, and the red-painted steel railing.
That's just some of the work we did in their backyard… They also had a whole new idea for what they wanted in their front yard! We implemented a big xeriscape in their front yard to prevent future maintenance issues with struggling grass. We used a great xeriscape material, crushed granite, which we are lucky to have such great supply of in the Central Texas area! It is a fantastic material. I will do a whole blog post on crushed granite (the ins-and-outs, pros-and-cons as all materials have) in the near future. We then planted really drought-tolerant Texas native flowering plants as well as cactus and succulents.
As pictured above, we put sandstone stepping stones in the crushed granite, laying it set in with a bed of mortar for nice stability and a polished look. No details left behind! This gave them a great walkway through their xeriscaped garden to their back gate.
If you have any unique and creative ideas for your own home, we'd love to hear them! Call us today for a free consultation on making your dream LandEscape become a reality!
Thanks for visiting and stay tuned for our informative post on crushed granite as well as another project blog post!