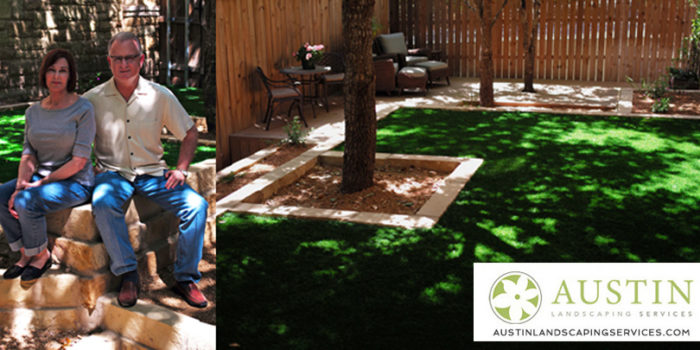 Grass That Will Look Great All Winter Long: An Artificial Turf Install!
Hello, everyone! The holidays are right around the corner… I hope you all are as excited as we are! We have several projects going on that will wrap up before Christmas and we are busy planting away this winter for the winter growth season.
Today I wanted to show you a project we recently did that involved a lot of masonry, tiering and leveling, plantings, crushed granite, and…. artificial turf! With our drought, and water restrictions being commonplace, many lawns in Austin, and all over the Southwest, have struggled to survive. We've had some brutal freezes the last few winters and, partnered with the hot, dry summers, grass has been quite difficult for many homeowners to keep lush. A common answer to this is xeriscaping, and this new xeriscape is a great example! When you want a beautiful, lush green yard, and can't achieve it with because of water restrictions and our Texas heat, a great alternative to consider is artificial grass.
The Hanzsen's not only had to deal with the harsh weather of Austin but also moved into a lot downtown which had a small, sloping, and shaded backyard. When we first met for our initial consultation there was only dirt that was piled up very high on their foundation, sloping all the way down to the fence line. Patricia and Thomas knew they wanted something much nicer than this but were unsure of their options. We brainstormed together to create a LandEscape of their very own, a backyard oasis they now really enjoy and can escape into, with very minimal ongoing maintenance!
We took pictures along the way so you could see some of the detail and planning that went into the artificial turf installation.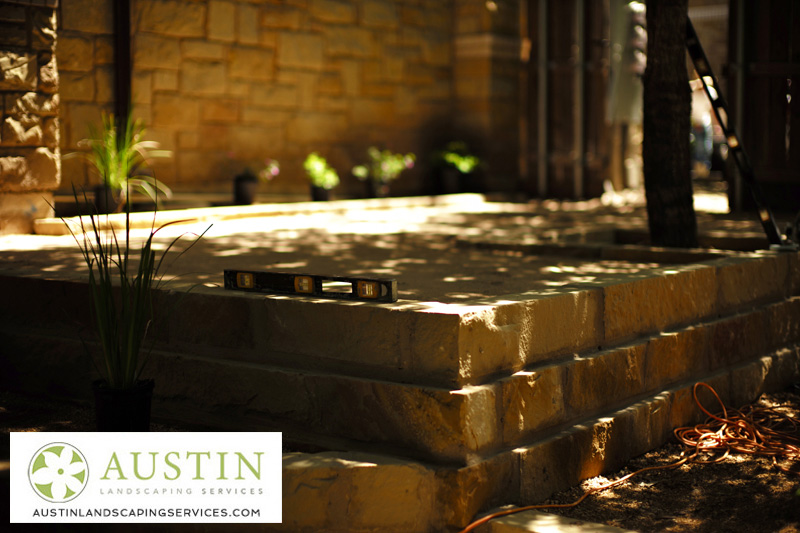 Here is a photo before we installed the artificial turf. You can see the tiers we made of sandstone using nice beefy 6×6 sandstone blocks. We then leveled this upper portion correctly with different aggregates so it'd be ready for a smooth lay of the turf.
Here are some photos of our guys rolling out a big, luscious swath of the grass after carefully cutting the dimensions of our space to customize the fit.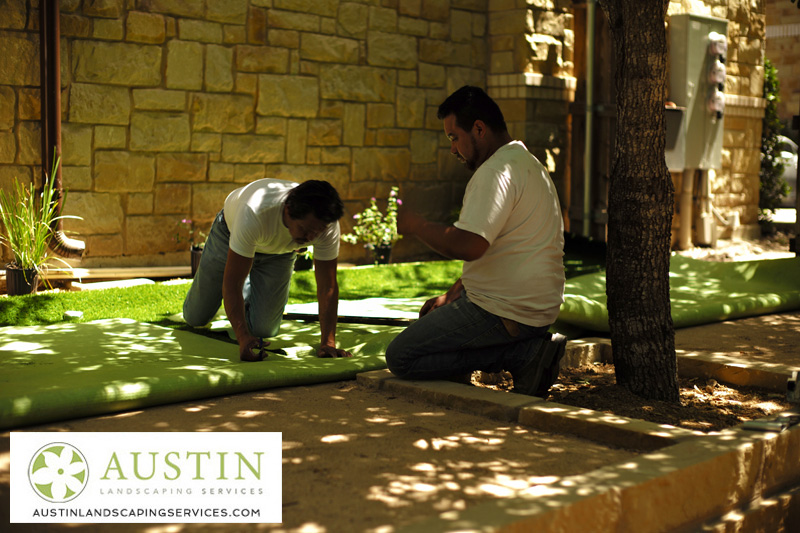 Once it is roughly laid we go back and cut the edges to be perfectly crisp and hug the stonework tightly. We believe the details make all the difference!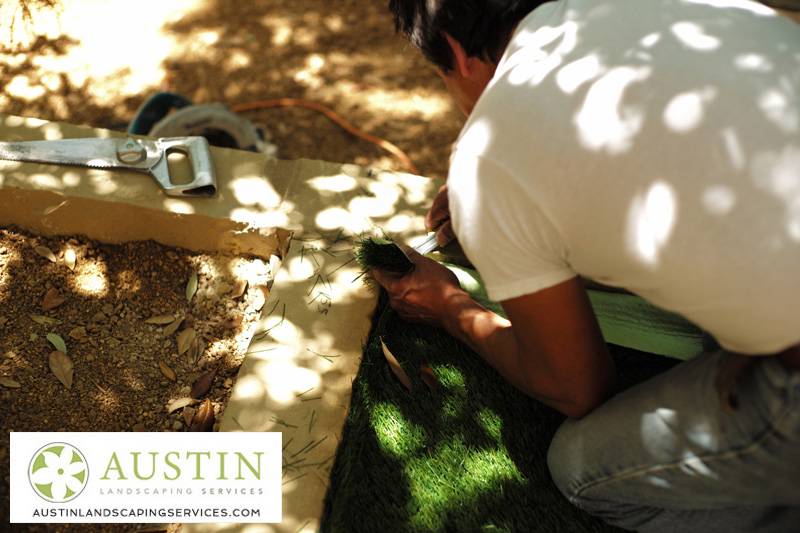 Now to see the big picture! Doesn't this look like the most lush yard in Austin?!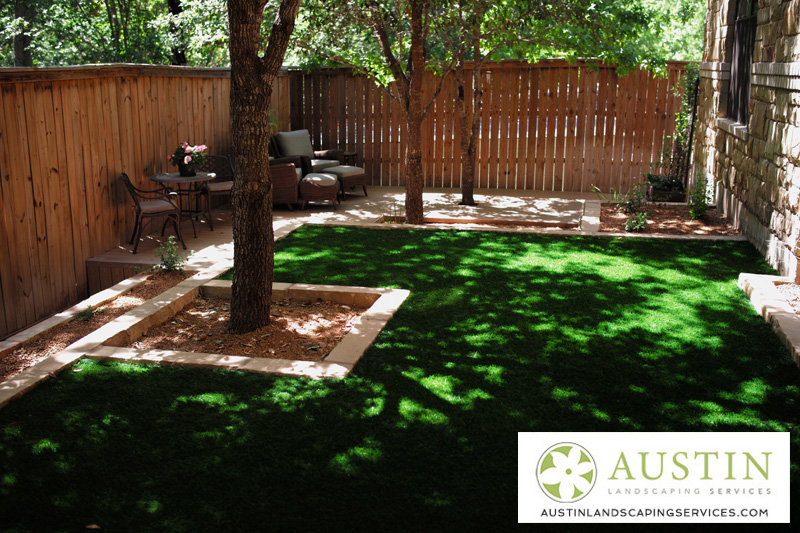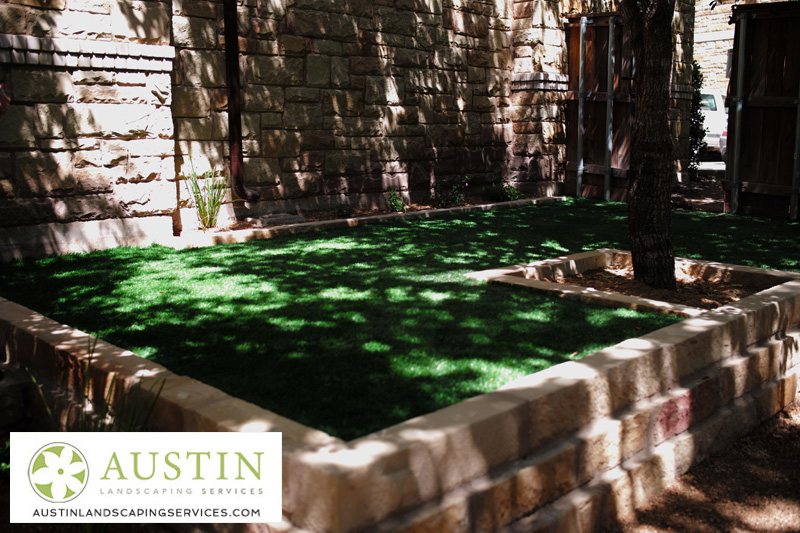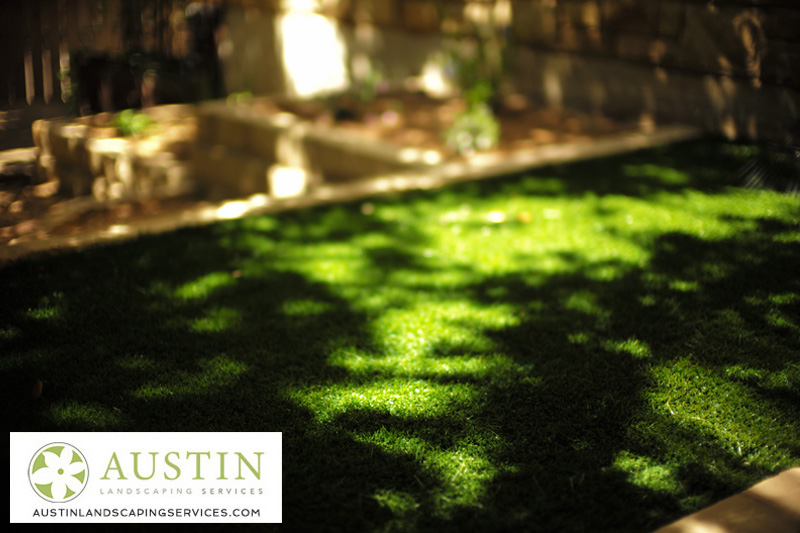 We use top of the line, premium artificial turf to ensure it not only looks real, but feels real as well. It is comfortable to sit on and walk on barefoot!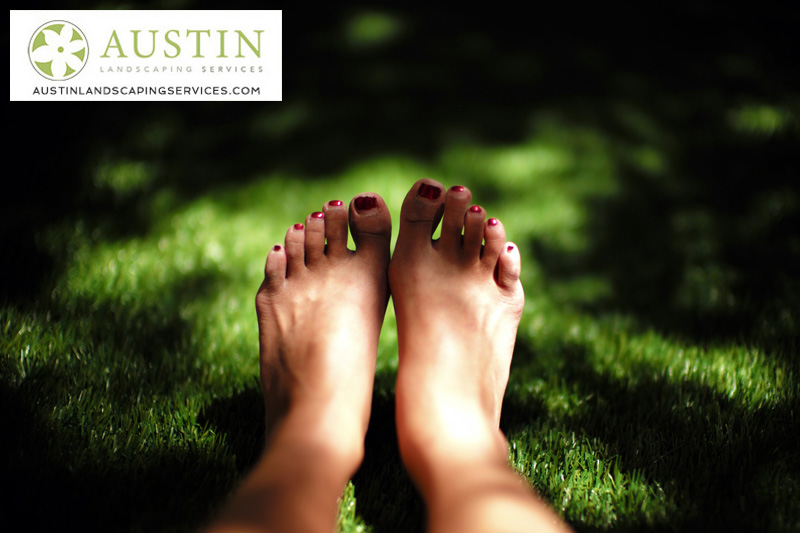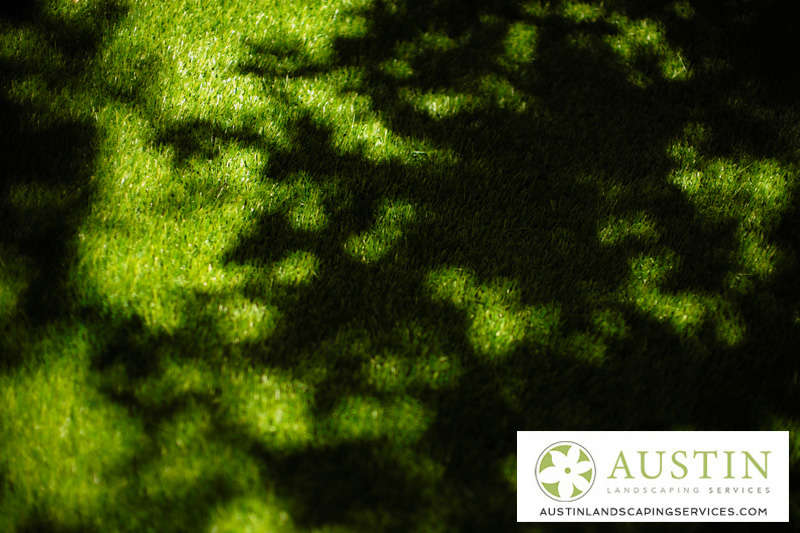 We try hard to educate our clients about ongoing maintenance of their LandEscapes in the future, how best to care for any landscape project. One of the best features of artificial turf is NO WATERING! Lower water bills and no more worrying and laboring over dry, dead turf! The only maintenance you have with artificial turf is occasionally blowing or raking leaf fall and debris off the surface. And maybe washing away pet droppings. This is pretty much all that is needed to ensure your artificial turf looks great for a very long time!
Here are the Hanzsens in their new LandEscape!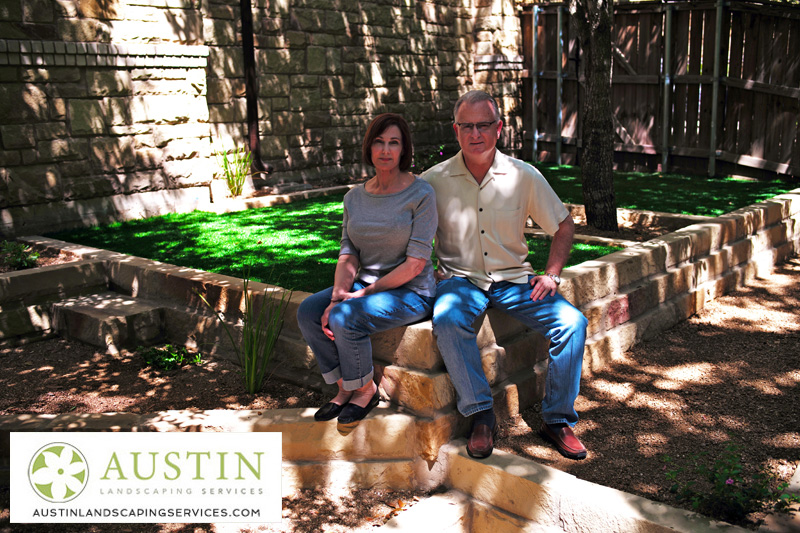 We hope you are having a great start to the winter season. Now is the best time for any plantings! We'd love to talk to you about your LandEscape so call us today for a free consultation! We will brainstorm to meet your custom wants and needs. (512)-698-8343.
Happy Holiday Season!