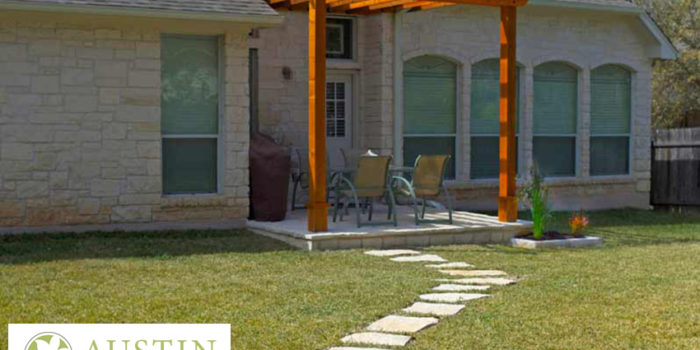 Oppenheimer Spring 2013 Project
Yesterday we completed a brand new backyard LandEscape for Mr. and Mrs. Oppenheimer and their dog Lacey!
The Oppenheimers chose Texas limestone and rough cedar for their backyard transformation. The rough cedar pergola was stained with two coats of premium oil-based stain for maximum longevity, and forewent the usual 2″X2″ cover in favor of future vine growth and a 'Sonoma Valley' feel.  There are now two entertaining spaces in their backyard, both of natural limestone flagstone set in hardened concrete with rebar and wire mesh reinforcement.
Finally, we installed a beautiful, complimentary Deluxe Texas native plant package to fill their gardens with vibrant color, hopefully by mid summer of this year! Our work will provide the Oppenheimers a solid, lasting foundation upon which to grow a lush backyard retreat.
As you can see in our photos from the project (below), Lacey seems to approve of our work! We'll be visiting the Oppenheimers (and Lacey) later this year once their garden plantings have grown, adding natural Texas beauty. Check back for more photos later this year!